Dental Veneers are fairly easy to maintain over a prolonged period. In this article, we'd like to discuss a few important aspects involved with taking care of dental veneers at home.
The most fundamental tip is to remember that every time you eat or drink something, rinse out your mouth afterward so bacteria does not stay in there all day long breeding in swarms. You should always floss regularly—in fact Dr. Leila recommends doing this before bed as well as after each meal, since we tend to get more food stuck between our teeth.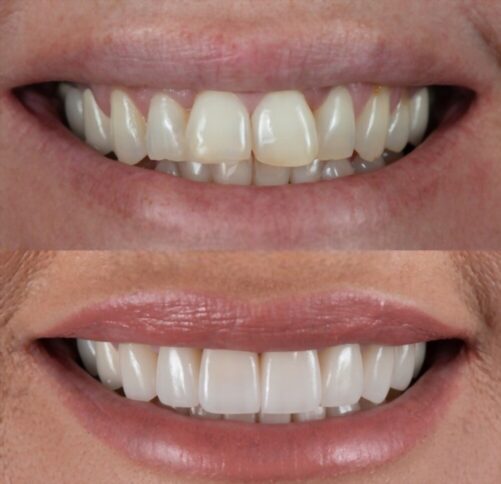 What Are Dental Veneers?
A popular cosmetic treatment, dental veneers are thin and tooth-coloured shells. These are generally made from porcelain or composite material which can seamlessly cover any dental flaws.
The veneers provide a long-lasting solution for teeth that are chipped, stained or even misaligned. Since, they give a laminating effect on your teeth, ensuring a natural looking smile.
Dental veneers usually last about 10-15 years. However, if you follow just a few easy steps, you can prolong its life:
1. Pay Attention to Good Oral Hygiene
As illustrated at the beginning of this article, good oral hygiene habits not only keep your gums/teeth healthy, but also maintain the quality and life of the veneers. Veneers, just like natural teeth, are vulnerable to plaque and germ build-up, eventually resulting in decay and gum diseases. Poor oral hygiene is the main cause of receding gums, which means the junction between the veneer and teeth become noticeable. In the worst case scenario, the veneer wears off completely. Follow some basic hygiene tips are:
Brush teeth twice a day
Floss at least once a day
Rinse with alcohol-free mouthwash
2. Avoid foods and drinks containing strong colours
Consuming large amounts of staining agents such as coffee, ketchup, colas, tea and red wine can lead to discoloration of the composite veneers leading to prolonged damage. It is always advisable to gargle and if possible lightly brush over the veneers immediately after items are consumed.
3. Giving up Smoking Helps a Lot
Even though porcelain veneers are resistant to stains, there are certain foods and drinks that can leave stains and dull the whiteness of the veneers. Cigarettes can play an especially destructive role here. The smoke stains your veneers and makes them appear dull and yellowish even after a few years.
4. Avoid Hard Food
Though veneers are durable, they are still vulnerable to chipping. Regular food doesn't create any problem, however, certain hard food like nuts can cause damage. So, it's always advisable to chop hard food into small pieces before eating them. Also, if you chew objects like pencils or nails, there's always danger of veneers getting chipped or cracked.
5. Grinding and Clenching
Unfortunately, grinding (bruxism) and clinching could affect the longevity of your veneers and cause chipping, fracturing or dislodgement of them. If you are a bruxer, this issue needs to be addressed and treated before having any extensive veneer work done.
If you have any queries regarding veneers or how to maintain them, book an appointment with Melbourne Dentist CBD. Dr. Leila Zamani is an experienced dental practitioner specialising in cosmetic dentistry.