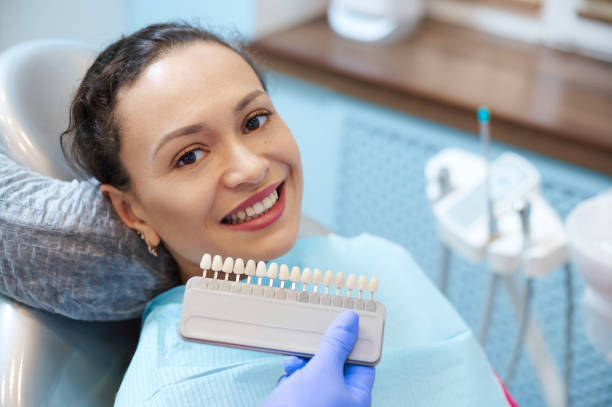 Seeking a top-notch cosmetic dentist in Melbourne CBD for a stunning smile transformation? Our Cosmetic dental treatments can enhance your appearance, boost self-esteem, and create a lasting impression in professional and social settings.
Our dental clinic provides a comprehensive range of cosmetic dental treatments and dentistry services, including dental implants, teeth whitening, porcelain veneers, and orthodontic treatments for crooked teeth. Our experienced dental professionals use advanced dentistry solutions and minimally invasive procedures to address aesthetic issues such as stained, discoloured, chipped, gapped, cosmetic dental surgery across Melbourne or damaged teeth.
Dr Leila Zamani, a leading Melbourne cosmetic dentist, offers simple and effective treatments like tooth whitening, dental bonding, and gum lifts to help you achieve a healthy, natural smile. Our laser dentistry services ensure virtually pain-free, efficient cosmetic dental work that can change your life for the better.
Many of our cosmetic dentistry options can be completed in just one appointment, allowing you to enjoy a radiant smile without any downtime.
Our dental treatments cover a wide range of procedures, including:
Crowns and bridges

Porcelain crowns and dental bridges are ideal for restoring the structure and appearance of damaged or missing teeth. Made from durable, natural-looking materials, they seamlessly blend with your existing teeth, providing functional and aesthetic improvement. Crowns encase the entire visible portion of a tooth, offering protection and reinforcement, while bridges fill the gap left by missing teeth, anchoring to adjacent teeth or implants for stability and support.

Porcelain veneers

Porcelain veneers are ultra-thin layers of porcelain custom-designed to fit over the front surface of a tooth. These veneers address a range of dental imperfections, including discolouration, fractures, and misalignment. They can also help to reshape teeth, creating a more harmonious and symmetrical smile. Porcelain veneers are stain-resistant, durable, and closely resemble the appearance of natural teeth, making them an excellent choice for smile transformations.

Teeth whitening

Over time, teeth can become discoloured due to the consumption of staining beverages like coffee, tea, and red wine or habits like smoking. Teeth whitening is a popular, non-invasive cosmetic procedure that effectively removes stains and lightens the shade of your teeth. Our dental clinic offers safe, professional-grade teeth whitening solutions that deliver impressive, long-lasting results, allowing you to enjoy a brighter and more confident smile.

White fillings

Traditional metallic fillings, while effective, can be visually unappealing and draw attention to dental work. White fillings, also known as composite fillings, provide an aesthetically pleasing alternative. Made from a tooth-coloured composite resin material, white fillings blend seamlessly with your natural teeth, providing a discreet and attractive solution. In addition to their cosmetic advantages, white fillings offer strong, durable, and long-lasting tooth structure restoration, ensuring your smile's continued health.