We all agree, that, a smile is a highway to any human heart. A simple smile can do wonders, both, personally and professionally, and it costs nothing. But, not everyone is born with an appealing, heartwarming, smile. Cosmetic dentistry to your rescue!

In today's advanced world; cosmetic dentistry has developed leaps and bounds. Today, it's a possibility to wear a winning smile by way of cosmetic dentistry.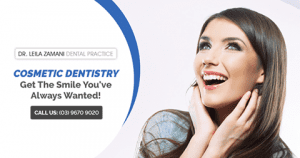 Initially, dentistry solely focused primarily on oral hygiene and dental disease prevention. But, as advancement approached the field of dental care, cosmetic dentistry emerged as a revolutionary smiling beauty enhancement element.
Cosmetic Dentistry Rejuvenates Dental Aesthetics
Nowadays, in our professional lives, presenting ourselves in the most confident manner stands highly crucial. Either it be while delivering a presentation to a potential client or to an investor, a beautiful smile can ease-up the tension and make you more approachable to your associates.
That's why, it's necessary to give proper attention to dental aesthetics, and hence, cosmetic dentistry is catered to by dental experts, like; Dr. Leila Zamani, based in Melbourne CBD.
Types of Cosmetic Dentistry Procedures
A range of cosmetic dentistry and professional oral care procedures are made available for better dental care, today, by Dr. Zamani, such as,
Porcelain Veneers are ultra-thin layered shells that are custom-made, laminated, porcelain fillers, substituting tooth enamel. Porcelain Veneers match the color of the tooth, identically, to absent any dental appearance imperfections. They are essentially a ceramic material joined to the tooth's external area via special resin adhesive.
Crowns and Bridges are also referred to as pontics, that are basically false teeth. These pontics are united between two porcelain crowns to fill the gap area. If teeth are attacked by some serious cavity, crowns are used to either shadow or round the tooth.
Tooth Whitening or teeth bleaching, primarily include careful cleaning of the plaque or tarter on the overhead of all teeth. This plaque or tarter is a result of daily wear and tear sustained by teeth due to tea, coffee, junk foods, or smoking.
White Fillings, in contrast to metallic fillings, provide a more natural, tooth matching, cosmetic dentistry treatment. White fillings not only treat teeth for decay or fracture, but also alter the size, color, or shape of teeth.
Dr. Leila Zamani Dental Practice, in Melbourne CBD, offers best quality cosmetic, preventive, and restorative dentistry treatments.
For more information:-
Tel:        (03) 9670 9020
Web:     www.dentist-melbourne-cbd.com.au