Whether it's a broken tooth, swollen gum or injured soft tissue, a dental emergency can cause excruciating pain. 
It's quite normal to panic when experiencing such intense pain, bleeding or swollen soft tissues. However, panicking never helps! On the contrary, it might worsen the problem, which is the last thing on your mind. Whenever you, a loved one or anyone around you face any dental situation, it's important to stay calm, think logically and act fast.
What Should I Know About Dental Emergencies? 
When it comes to handling a dental emergency, there are certain essential things that you need to keep in mind:

Know which dental situations fall in the category of a "real" emergency

Find the best ways to handle the emergency. 

Know what you Should Not Do
Know the Real Dental Emergency
It's important to know that Not Every Dental Issue is a Dental Emergency! 
Anything that causes discomfort may need professional attention immediately. 
However, any dental issue that hinders basic motor functions like eating, swallowing or speaking means you should head straight to a dentist without wasting any time. Any delay in reaching a dental practitioner could make things go from bad to worse. 
A broken jaw is an uncommon dental emergency. It requires emergency dental care as the pain can be agonising. Moreover, a broken jaw makes it impossible for a person to eat, speak or swallow. Not to forget, there's always the risk of severe damage when there's any delay. 
Other than this, when there's swelling on the face, it's an indication of a severe infection. If this infection is ignored and not given urgent attention, it can spread to the brain or airway. This can lead to dire consequences, including death.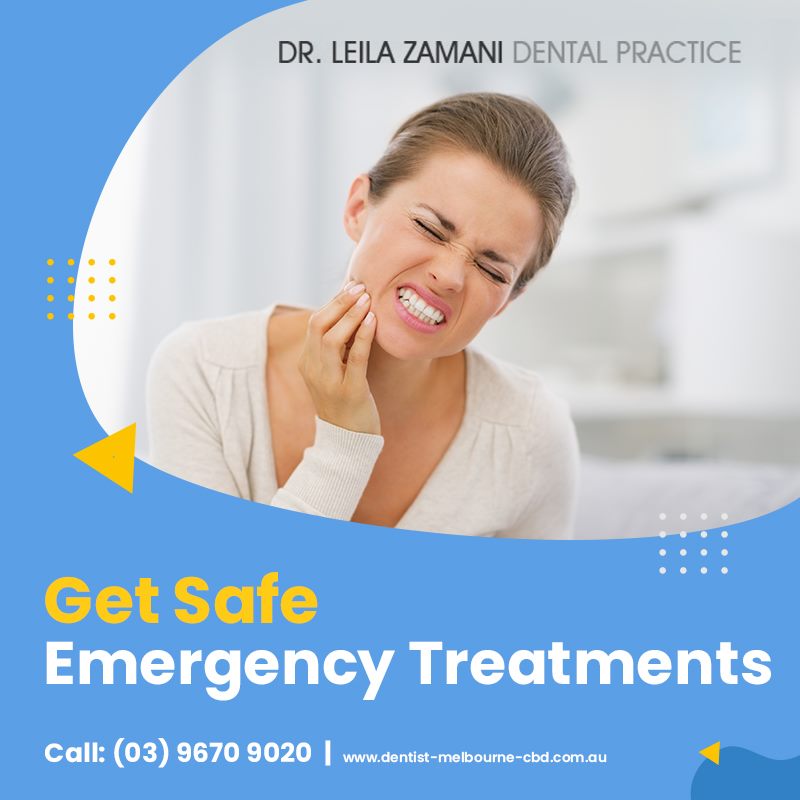 This brings us to the next point – 
What are Some of the Common Dental Emergencies and How to Handle Them Before You Reach a Dentist! 
Reaching a dentist on time is extremely crucial when you have to deal with dental emergencies. However, before you get to the emergency dental room, it's vital to address the issue with some first-aid solutions:
What to Do When There's Bleeding Due to Injured Gum, Tongue or Lip? 
In case of bleeding, it's critical to stop it ASAP. Bleeding can happen for various reasons, including injured soft tissue, gum, tongue or lip. Severe blood loss could happen when a tooth is knocked off its socket. The first thing you can do is stop the bleeding by rinsing the affected area and applying a cold compress. Placing a thick cotton gauze on the injury also stops the bleeding.
How to Ease the Pain Caused By Swelling? 
If you have facial swelling it is very important to seek treatment immediately.
Please see a dentist as soon as possible as it could be a life threatening situation.
How to Deal With an Injury Due to a Knocked-Out Tooth? 
When dealing with a knocked-out tooth, the best thing is to put the tooth back in the socket by a dentist. This makes it possible to restore the tooth if it's preserved properly. There are a few things you need to remember: 
Never touch the tooth's root. 

If the tooth is dirty, hold it by the crown and rinse off the dirt with a milk or saline solution. 

Store it in a clean container with milk or your saliva in it. 

What to Do When It's Chipped/Cracked Tooth? 

In case of a chipped or cracked tooth, clean your mouth with warm and clean water. After this, apply a cold compress to your face to bring down the immediate pain and swelling while you head to an emergency dentist instantly.

How To Deal With an Abscessed Tooth?

An abscessed tooth, if ignored, causes severe toothache and could even lead to a high fever. You can rinse your mouth with mildly salted water and contact a dentist at the earliest.
What Not To Do During a Dental Emergency?
As we mentioned before, panicking in a dental emergency is quite a natural reaction. This causes confusion and most people end up doing several things that end up worsening their situation:
Avoid self-medication

or taking over-the-counter pain relievers. Pain relievers may give you immediate relief, but they can cause several side effects, including blood thinning and psychologically ignoring the root cause of the pain.

Don't overexert yourself

, as it may increase the flow of blood towards the injury. 

It's natural for many people to rush to an emergency room or ER in a dental emergency. However, in most cases, except for a broken jaw, ER doctors advise contacting the nearest emergency dentist.
Knowing the right way to deal with a dental emergency is what makes a lot of difference before you can reach an emergency dentist. To get more information and for timely help for any dental emergency, contact Dr Leila Zamani at Melbourne Dentist CBD.